21-inch Products Series
Allows greater flexibility for your applications
Allows greater flexibility for your applications.
Wiwynn's 21" Open Rack (WiRack21) solution delivers greater flexibility for customers looking for the right operating platform that brings out the best in their application services. The Open Rack solution promises greater performance without adding to the overall ownership costs.
Wiwynn's Open Rack products are compliant with the OCP (Open Compute Project) specifications and are ideally suited for cloud service providers or large data centers demanding high-levels of operation and power efficiency. The centralized power system and vanity-free design allow easy cold-aisle operation and tool-less replacement of front serviceable parts.
By focusing on designing maximum benefits into the Open Rack system, Wiwynn delivers improvements over traditional rack installations in terms of:
WiRack21 Features: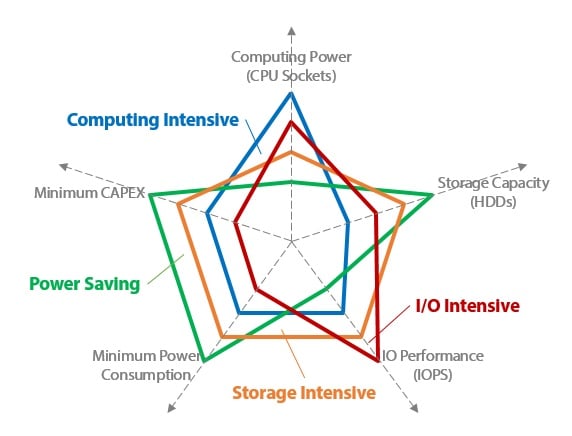 1. Energy Efficiency
​Wiwynn's new power structure system redefines power usage. The centralized power shelf design eliminates power loss from AC/DC power conversion in traditional racks while enhancing system cooling by cutting down extra power consumption due to running unn
ecessary fans.
2. Space Availability
Compared to traditional rack designs, Wiwynn Open Racks have a spacious 21" (internal) width that fits streamlined main and accessory Wiwynn OCP products perfectly, increasing space availability from 75% to 87.5%.
3. Serviceability
All Wiwynn OCP products are designed for tool-less access and easy FRU replacement. Complemented by Wiwynn's auxiliary management tools, RMC (Remote Management Controller) and Wiwynn Cluster Manager, the maintenance crew can service up to 20 times more servers in the same time, when compared to traditional installations.
4. Lifecycle Extension
Modular components such as the power shelf, fan, CPU, memory or even entire servers can be reused and replaced easily, delivering greater lifetime cost-efficiencies. Eliminating PSUs, that have a relatively high failure rate, in servers, Wiwynn improves long-term ROI, reduces operational downtime, and lowers resource depletion.
Storage Server
Cost-effective micro server for large capacity storage applications. High-density storage system designed with redundant controllers provides full redundant data paths to each HDD.
All-flash NVMe JBOF
Leading industrial storage system provides the best IOPS and IO performance per watt.
Storage
Unique and high-capacity storage system with high availability and flexibility. Hot-plug HDDs can be swapped immediately, saving lots of time and effort for maintenance and repair.