SR2000G2
New generation hyper-scale rack focusing on modularity, cost and power efficiency and global datacenter interoperability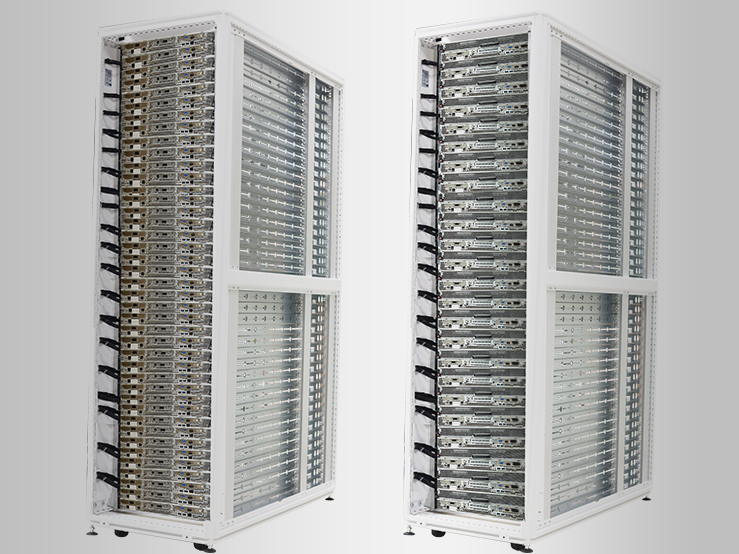 High Scalability and Easy Maintenance Rack Architecture
Designed to integrate with Project Olympus modules, SR2000G2 is the perfect rack for accommodating high-scalability servers like Wiwynn SV5100G3 (1U) and SV5200G3 (2U) and typical 19" IT equipment. In addition to high interoperability, with front & rear locking door, sidewall options, server tracks for standard equipment, baffles and air-blocking panel options, SR2000G2 thus can be easily scale-out with no frills.
Power and Management Distribution Unit (PMDU) and Power Efficiency Design
PMDU allows system to be configured, mixed and match on demands. When SV5100G3 and SV5200G3 server sleds are inserted in the rack, they are blindly mate up with the PMDU which provides power. SR2000G2 provides better efficiency by delivering three phase power to each individual server, which is 97% efficient and only have 3% conversion lost. In addition, it provides phase balancing to each server depends on different workloads.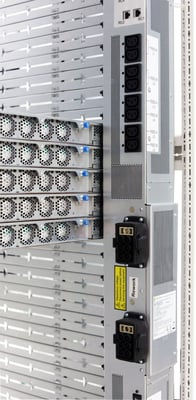 Universal Power Adapted to Worldwide Data Center
Wiwynn SR2000G2 is standardized with new universal rack power distribution unit (PDU) for global data center interoperability. SR2000G2 supports a variety of AC power cords, and fits universal data center power systems.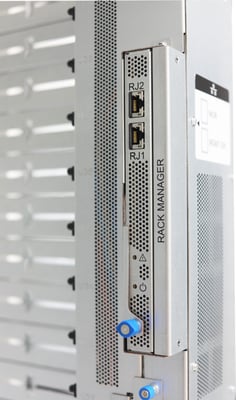 Open Source Hardware Design for TCO Optimization
Inherited the design concept of OCP, Project Olympus rack steps up the development of open source hardware including 1U/2U server, high-density storage by adopting universal motherboard, high-availability power supply, PMDU, and rack management module to meet specific datacenter configurations.
Tech Spec
Form Factor

42U chassis in 19-inch rack

Dimensions

1200 (D) x 597 (W) x 2013 (H) (mm)

Weight

94.238 Kg (dry weight)

Inner Space

42U (including three 1U column braces, two 1U switches)

Compute Server

Up to 37 individual SV5100G3 (1U) servers

AC

5 Wire 400V/415VAC 30A/32A (power capacity to 17.2kW) 4 Wire 208VAC 50A (power capacity up to 14.4kW) 4 Wire 208VAC 30A (power capacity up to 8.6kW)

Power Capacity

8.6~17.2 kW

Manageability

PMDU

The PMDU monitors and reports the voltage, current, and power for each output.

• 2 x 1GbE (NIC1-2) for communication with Rack Manager and Rack Management Switch

• 3 x 1GbE (RJ3-5) for communication with PMDU

• 4 x 1GbE (RC1 to RC4) for relay cable

• 1 x 1GbE (RM1) for communication with Stand-Alone Rack Manager Module

• 6 x C13 (L1-L6) single-phase AC outlets for providing power to switch and other devices in rack, excluding servers.

Rack Manager

• TI AM4376 ARM Processor

• 2x 1GbE for communication with Data Center and Server Blade management

• 2x UARTs for communication with Data Center Digi and Ethernet Management Switch

• 1x Spare UART for Debug or future feature

• Control Signals for power control of blade slots

• Rack AC power monitoring

• Remote AC power control for Rack AC devices

• Remote On/Off control Bootstrap and RM Throttle from Row Manager in MOR

• PCIe x16 and PCIe x8 edge finger connectors for interfacing to the PMDU or other backplanes.