19-inch Products Series
Best-in-class scale and efficiency from server to rack
Wiwynn WiRack19 products optimize data center maintainability, computing performance, and TCO with best-in-class scale vs. efficiency from server to rack.
How to manage, maintain, and upgrade a data center within a limited budget and best utilizing existing IT facilities including power consumption, cooling flow, and capacity usage is a constant concern for data center management.
Wiwynn's WiRack19 products offer unparalleled performance in terms of:
WiRack19 Features:

1. Maintainability
Customers can add, replace and upgrade step-by-step without interrupting ongoing services. The modular design simplifies replacement within the rack and cabling is vastly simplified, minimizing service downtime caused by operational errors to almost zero.
2. Computing Power
Wiwynn WiRack19 products are built around the latest Intel® Xeon® Processor Scalable Family, which represents a major architectural leap forward in processor platform advancements. This new architecture delivers impressive performance allowing customers to run a more diverse 5. variety of workloads on each system.
3. Ultra-high IOPS
Wiwynn's NVMe JBOF solution delivers ultra-high performance with I/O throughput of 26.6GB/s, IOPS of 5,692K (4KB random write) and excellent price performance (7,958 IOPS/Watt), making it ideal for deployment in data-intensive and storage-intensive applications.
4. Cost-Optimized
Centralized cooling delivers noticeable improvements in cooling efficiency while hot-swap nodes and power supply units enhance reliability and cost effectiveness.
Edge Platform
Tailored-made edge servers for diverse edge locations with flexible configuration for various edge computing including AI workloads.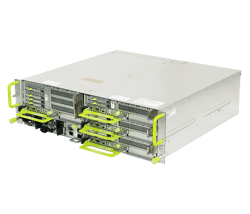 EP100G2
EP100G2
The Best All-in-one Platform for 5G CU/DU/5GC/MEC and Private 5G Environment
See more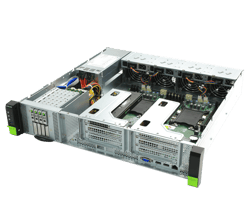 ES200
ES200
The Tailored-made MEC Server with Flexible Configurations for Various Edge Applications
See more
All-flash NVMe JBOF
Leading industrial storage system provides the best IOPS and IO performance per watt.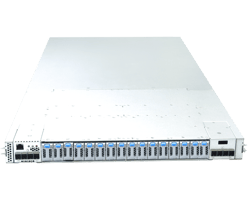 ST5100
ST5100
High density 1U JBOFs that accommodates up to 16 hot-swappable EDSFF NVMe SSDs
See more