EP100G2
The Best All-in-one Platform for 5G CU/DU/5GC/MEC and Private 5G Environment
The 4th Gen Intel® Xeon® Scalable Processors

with Enhanced Performance
0

%

Performance boosted with 4th Gen Intel® Xeon® Scalable processors
0

%

Reduction in total costs when all RAN sites are virtualized
0

x

Faster IPsec performance than previous model
Wiwynn® EP100G2, a next-generation 5G server of EP100, enables the more powerful 5G RAN solution. The server sled design features the 4th Gen Intel® Xeon® Scalable Processor with increased core count, DDR5, PCI-e Gen 5, and integrated accelerators. The built-in accelerators improve overall performance by making better deployment of CPU core resources, resulting in more effective utilization and power efficiency. Additionally, the CPU's maximal TDP is upgraded up to 225W in one sled, which enables the server to operate to its maximum computing capacity.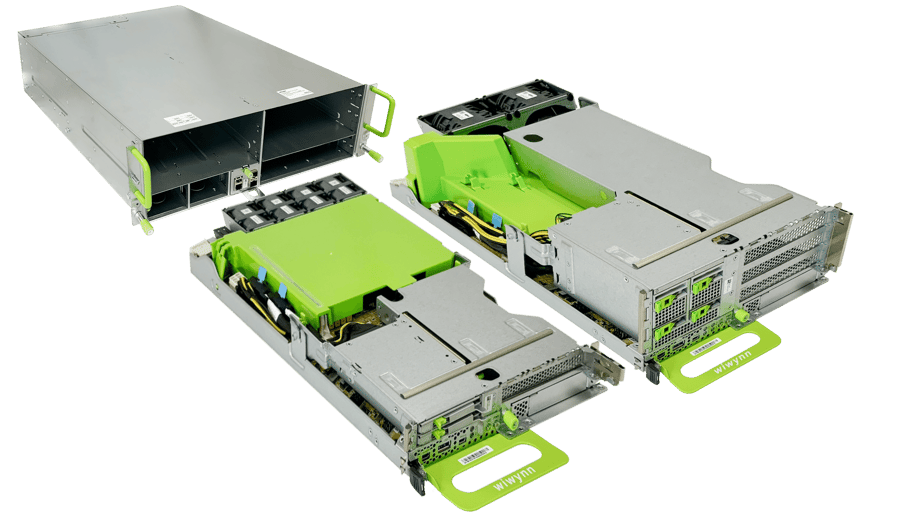 Flexible 1U/2U Sled Designs for Versatile Applications
EP100G2 leverages the former generation's performance of 1U sleds, expanding the system's versatility by adding brand-new 2U server sleds. The new 2U server sled features high-density DUs for increased RU connections, while adding more GPU cards to facilitate far-edge applications. Its 3U chassis can accommodate five new 1U server sleds, while it can be replaced with one or two 2U sleds for higher performance needs. The configurable flexibility not only provides easy serviceability but also maximizes the computing capacity and adaptable deployment for different application scenarios.

Intel® QAT and AVX Enabled for Faster 5G/Edge Applications
EP100G2 showcases the latest Intel® AVX and QAT embedded in the new Intel® Processor. The Intel® Advanced Vector Extensions (Intel® AVX), deployed 42 New 5G ISA instructions for 5G vRAN workloads, improves signal and media processing. The Intel® QuickAssist Technology (Intel®QAT), a newly built-in accelerator, makes the best use of the processor cores, providing expedited cryptography, key protection and data compression.
Short-Depth Form Factor for Diverse Edge Locations
EP100G2 deploys a 3U short-depth chassis, which is perfect for service providers to deploy far-edge applications on existing facilities. And this solution can further reduce infrastructure complexity and meet environmental constraints.
Pooled Power and Chassis Controller for Power Efficiency and Management
EP100G2 delivers easy management for edge sites. To the chassis management, EP100G2 requires only one 1Gb/s RJ45 cable on the OpenRMC to manage all the server sleds. With two 10G SFP+ ports on the system's front panel, we can manage the whole server cluster utilizing just one link to cascade numerous systems.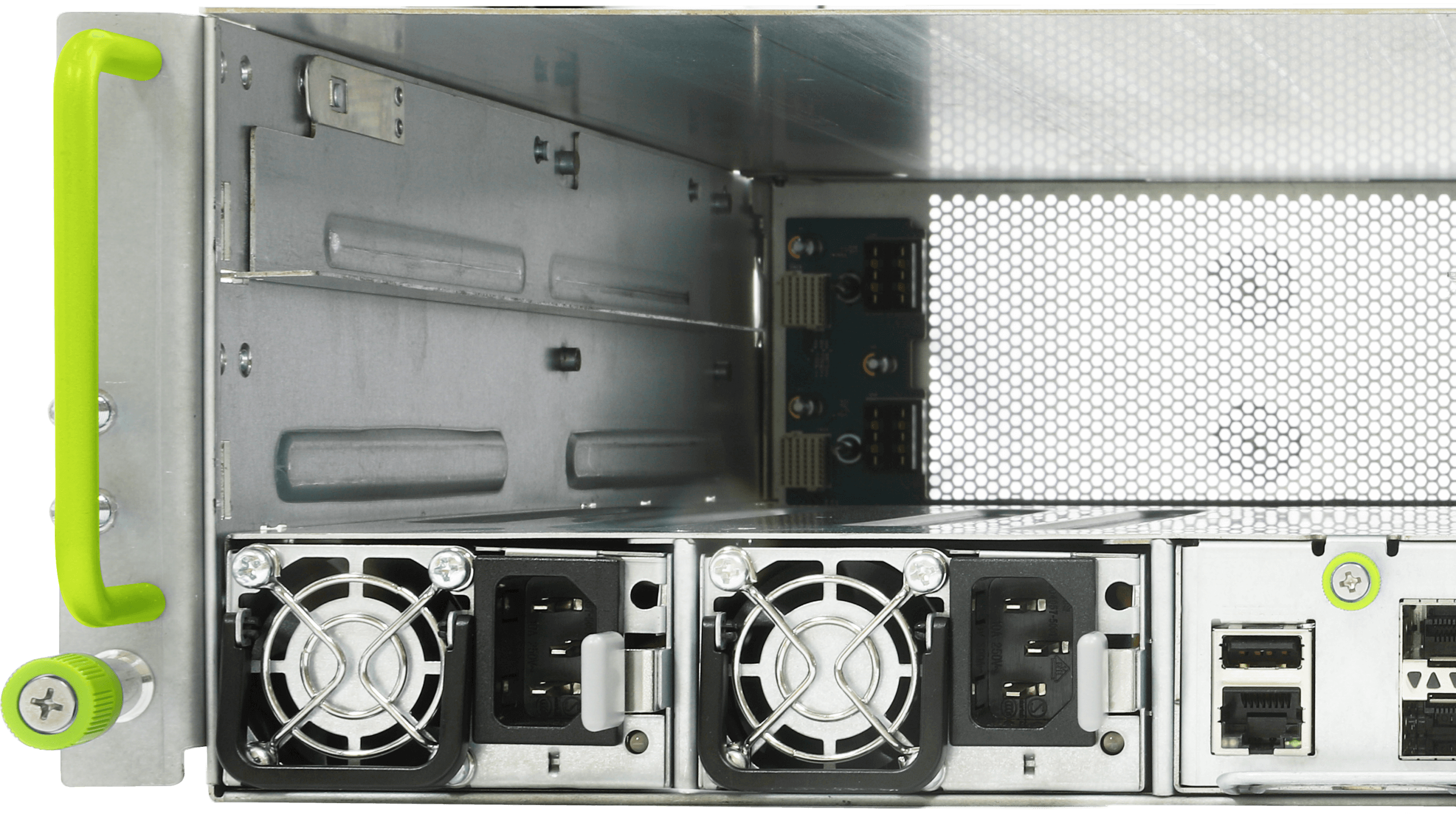 Tech Spec
Node Specification
Hardware
1U Sleds
2U Sleds
Form Factor
1U, Half Width
2U, Half Width
Processor
4th Generation Intel® Xeon® Scalable Processors up to 205W TDP
4th Generation Intel® Xeon® Scalable Processors up to 225W TDP
Processor Sockets
1 (1 Socket/Node)
Chipset
Intel® Emmitsburg PCH, TPM 2.0
Memory
8 DIMM slots; DDR5 up to 4800 MT/s
Storage
Two M.2 NVMe SSD module slots + Two 2.5" U.2 Hot-plug drives
Two M.2 NVMe SSD module slots
Two M.2 NVMe SSD module slots + Four U.2 Hot-plug drives
Expansion Slots
One FHHL slot (PCIe 5.0 x16)
One FHHL slot (PCIe 5.0 x16) + One HHHL slot (PCIe 4.0 x8)
Two FHHL slot (PCIe 5.0 x16)
One FHHL slot (PCIe 5.0 x16) + Two FHHL slot (PCIe 5.0 x8)
Networking (NIC)
OCP 3.0 PCIe 5.0 x16
Remote Management
IPMI v2.0 Compliant; RedFish®API
Dimensions
41 (H) x 215 (W) x 421.8 (D) mm
82 (H) x 215 (W) x 421.8 (D) mm
Weight
3.5kg
5.42kg
Fan
Four dual rotor fans
Two dual rotor fans
OS Support
RedHat Enterprise Linux 8.x, CentOS 7.9, Ubuntu 20.04
Chassis Specification
Form Factor
3U
PSU
2x 2000W, AC/DC/DC(±48V), 1+1 Redundant Hot-swappable PSU
Dimensions
130.6 (H) x 440 (W) x 430 (D) mm
Weight
25Kg
Management LAN
‧ One 1Gb/s RJ45 cable
‧ Two 10G SFP+ ports
Environment
‧ Operating conditions: NEBS Level 3 compliant (GR-63, GR-1089)
‧ EMC: FCC CFR47 15 (class A), CISPR 22/32 (class A) CISPR 24, NEBS Level 3 compliant
‧ Safety: SR-3580, IEC 62368-1:2014, NEBS Level 3 compliant (electrical safety, grounding and bonding)
‧ Seismic tolerance: NEBS Level 3 compliant
‧ Acoustic noise: NEBS Level 3 compliant
‧ Fire resistance: NEBS Level 3 compliant