ST5100
High density 1U Project Olympus JBOFs that accommodates up to 16 hot-swappable EDSFF NVMe SSDs form factors

New Generation Disaggregated NVMe Storage for Capacity Expansion
ST5100 is a high density NVMe storage with 16 hot-pluggable NVMe SSDs form factors, based on the EDSFF (Enterprise & Datacenter SSD Form Factor) standard. It supports high throughput, low latency and extraordinary capacity per drive and per system. Data centers can therefore pack more storage into less space, use less power and lower costs.

High Capacity with EDSFF NVMe SSD
This system accommodates 16 EDSFF 1U Long NVMe SSD (SFF-TA-1007 E1-L) with 16TB capacity each, totaling up to 256TB. The NVMe SSD is 18mm wide which provides better thermal capacity that guarantees best performance with bigger capacity as supplier plans to support 32TB SSD in the near future.
Optimized for Data Center Support
ST5100 supports front I/O and standalone PSU. Along with the blind-mate installation supported chassis, this system provides remarkable serviceability for datacenter operators.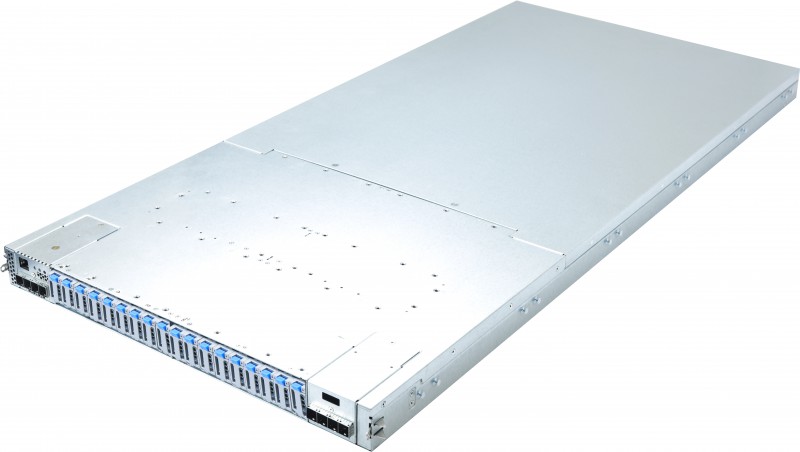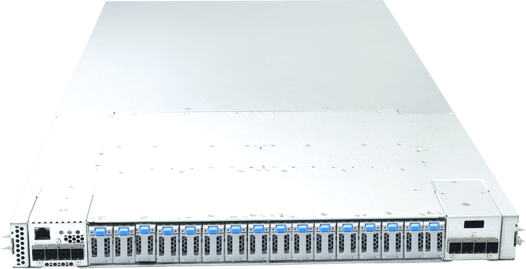 Designed for High Flexibility
Designed with two PCIe 3.0 x16 host connections, ST5100 is also flexible for up to 2 host connections depending on application needs. The configuration could be 16 SSDs for one host, or 16 SSDs for two hosts (recommend 8 SSDs for each host).
Tech Spec
| | |
| --- | --- |
| Expander | PCIe 3.0 Switch |
| Storage | 16 hot-plug PCIe 3.0 x4 (18mm EDSFF SSDs) |
| IO Ports | Two PCIe 3.0 x16 (Quad miniSAS HD connector) |
| LAN | One GbE RJ45 port |
| Remote Management | Open BMC |
| Power Supply | 1000W |
| Fan | 6 (5+1) |
| Dimensions | 1U; 43.2 (H) x 441 (W) x 920 (D) mm |