Embrace AI with Diversity and Sustainability
Wiwynn at OCP Global Summit 2023, Oct 17–19
Join us on a journey of Knowledge and Innovation
Welcome to Wiwynn at OCP Global Summit 2023! We're excited about this year's theme, "Embrace AI with Diversity & Sustainability." As technology evolves rapidly, it's vital to use AI while championing diversity and sustainability. At this event, we'll explore how AI, diversity, and sustainability shape our future. Join us on a journey of knowledge, innovation, and meaningful dialogue as we navigate the boundless possibilities.

Discover Our Latest Solutions
AI Training Solutions
In a world where data is abundant and insights are invaluable, our offerings stand as a testament to the boundless potential that AI holds. We proudly present a comprehensive suite of AI training and inference solutions that embody cutting-edge advancements, designed to elevate businesses into the realm of intelligent automation.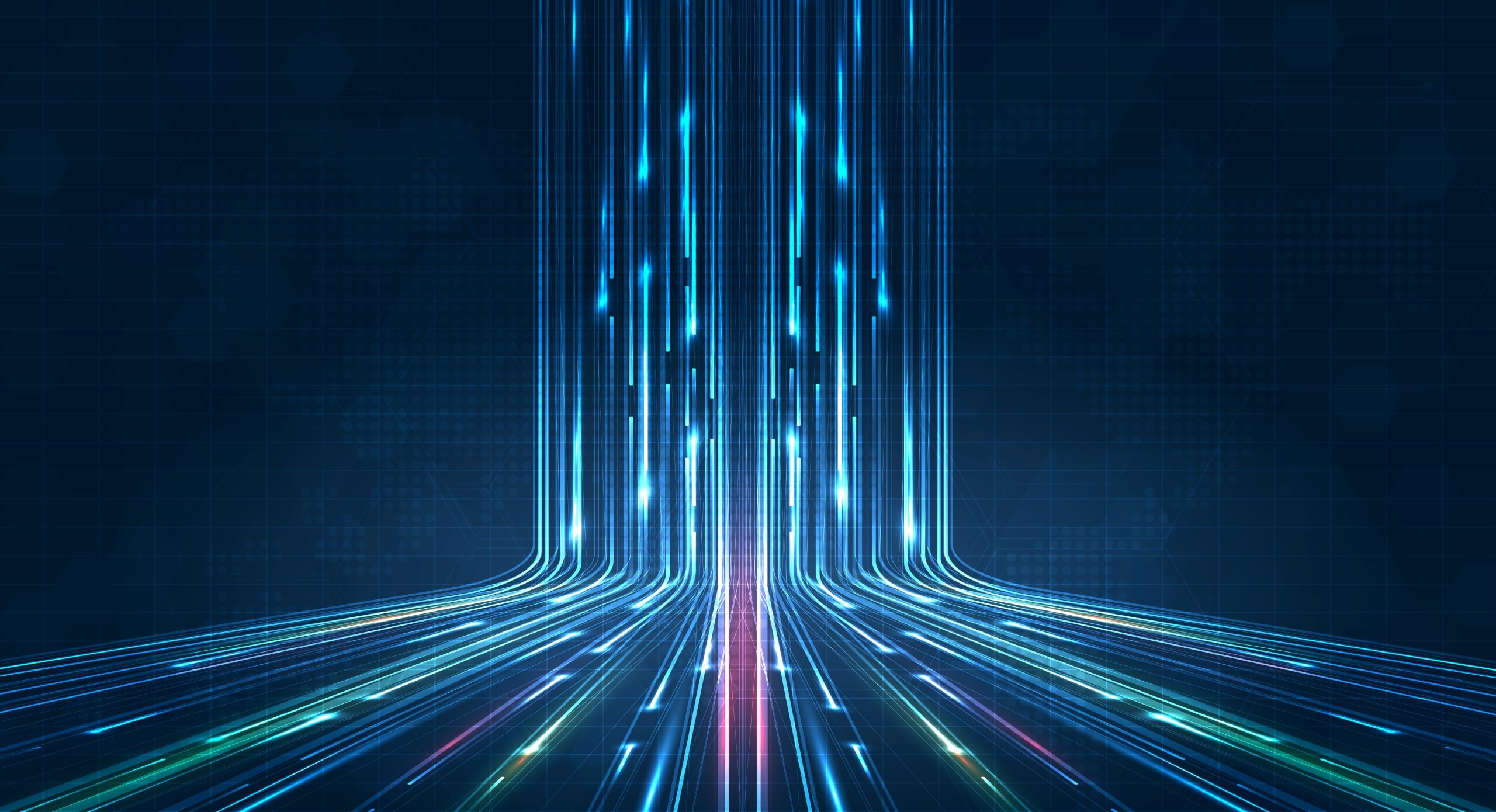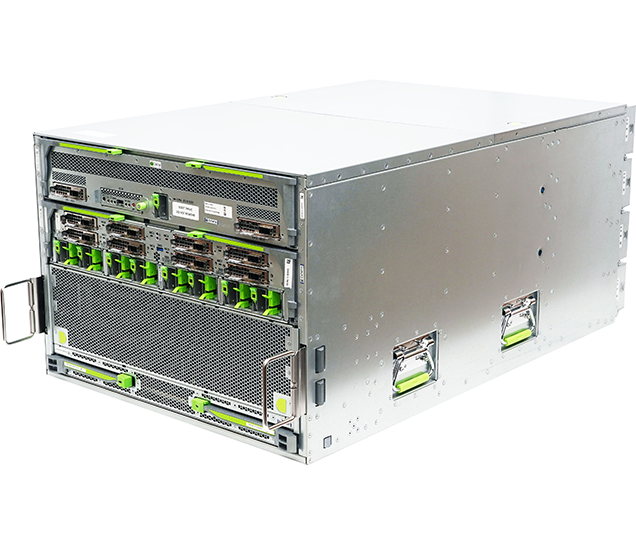 AI Training Solution with 8 Nvidia OAM Processors
High Scalability Meets Any AI demand
Integrated 2S Intel® Xeon® Processors
Highest OAM Interconnections with Fully Connected UBB
6 x 400GbE QSFP-DD Ports Provides 2,400GbE Interface for RDMA-enabled Scale out
Drawer and Front I/O Design for Easy Installation and Maintenance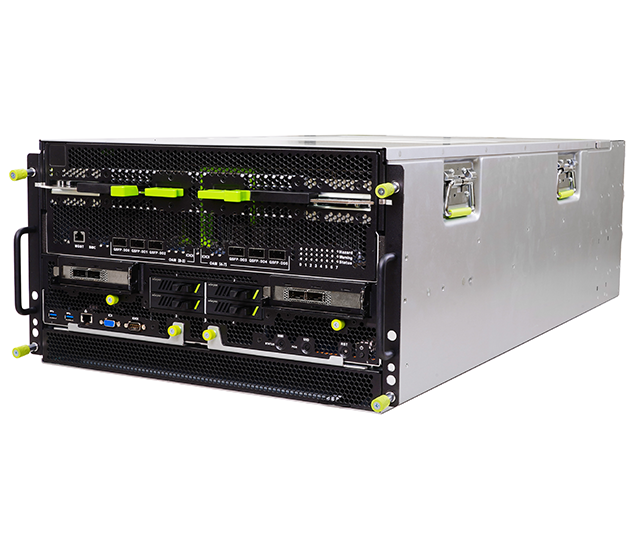 AI Training Solution with 8 Habana OAM Processors
OCP Based OAI/OAM AI Server
Integrated 2S Intel® Xeon® Processors
Fully Connected NVLink™ Through NVIDIA HGX Baseboard Maximize AI performance
Efficient Scaling Out via RDMA-enabled Network with 8x 400Gb QSFP-DD Ports
Drawer and Front I/O Design for Easy Installation and Maintenance
Advanced Cooling Solutions
Built upon a foundation of cutting-edge engineering and meticulous design, our cooling solution harnesses the power of state-of-the-art materials and intelligent thermal management systems. Featuring Wiwynn ORv3 Liquid Cooling Solutions and Advanced Cooling Management, our solutions ensure optimal operating conditions and enhance energy efficiency.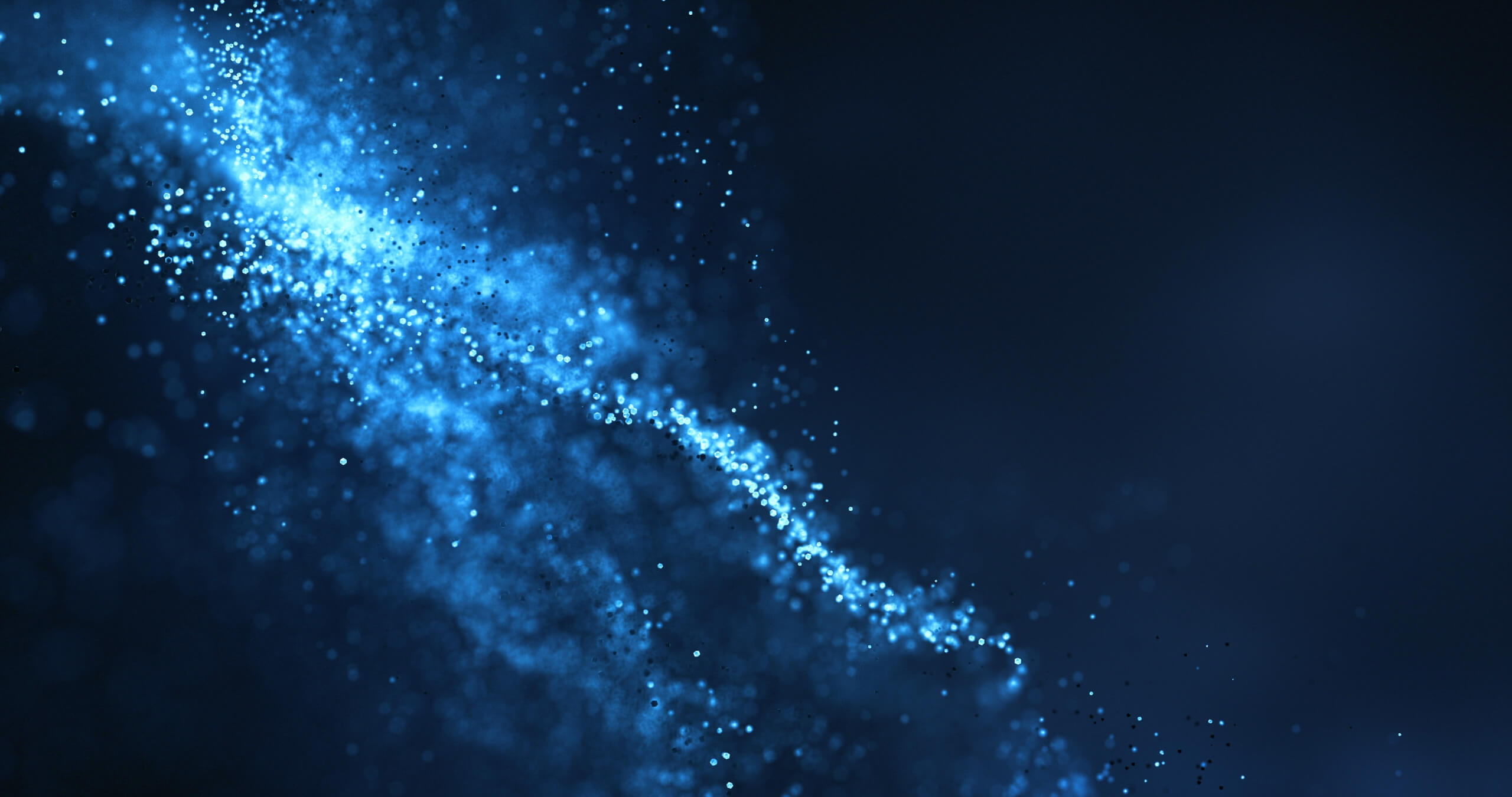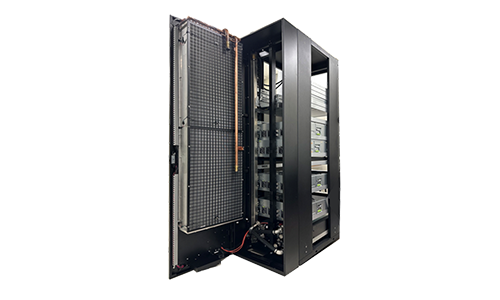 Wiwynn ORV3 Liquid Cooling Solution: Aqualoop
Open Rack v3 Liquid Cooling Solution
Blind-Mate Liquid Cooling Interface
Compatible with Liquid to Air (door heat exchanger), Liquid to Liquid (CDU), and Hybrid
Real-Time Monitoring, Cooling Energy Optimization, Rapid Leak Detection, and Protection by Wiwynn DC-SCM Based Advanced Cooling Management System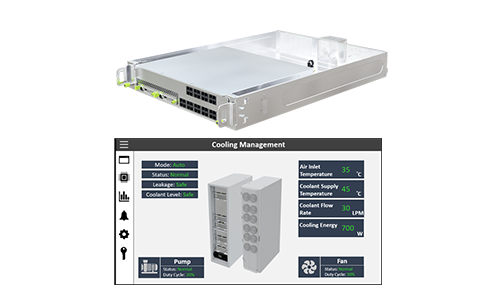 Wiwynn Advanced Cooling Management Solution: UMS100
Advanced Cooling Management System with DC-SCM
Modular Design for Various Cooling Solutions
Compatible with CRPS and 12V/48V DC Bus Bar
OCP DC-SCM with 1+1 Redundancy
Real-Time Monitoring, Cooling Energy Optimization, Rapid Leak Detection, and Protection
Redfish Interface and Friendly User Interface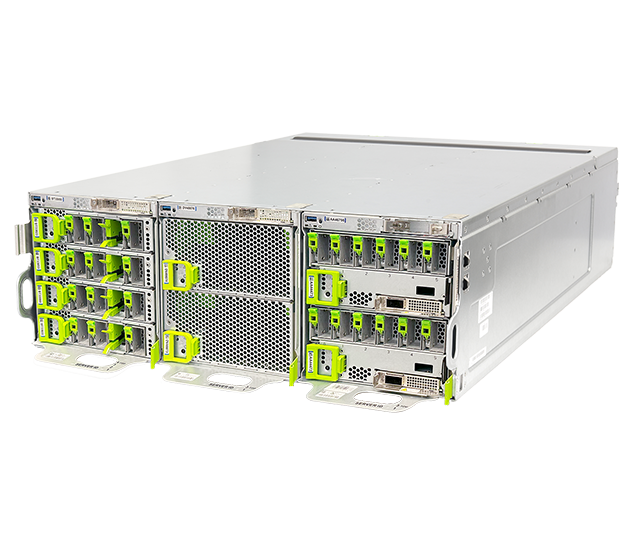 Wiwynn® Yosemite Series
The 4U Server with Rich Configurations for Scalable Cloud Service
4U Server for Scalable Services Inherited from OCP Yosemite
Multi-Type Sled Design Providing Flexibility
OCP Open Rack V3 Compliant Design
Power Efficient Scalable 4U Platform for Flexible Compute and Storage
Multi-host OCP 3.0 Shared NIC for Unified System Management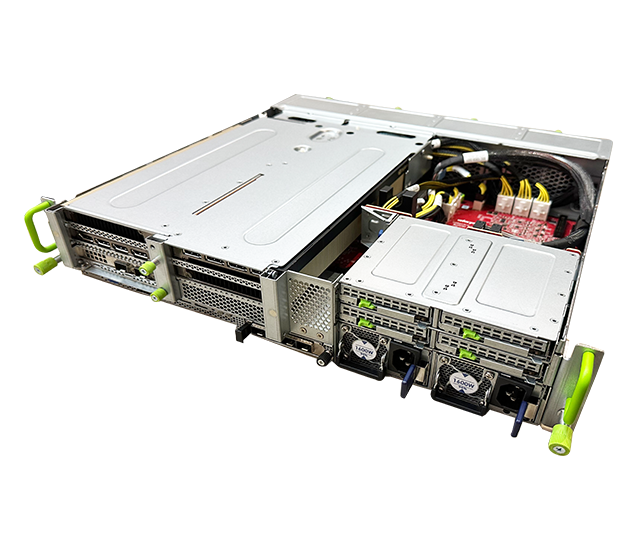 ES200G2 OpenEdge Server with NVIDIA L40S Processor
Flexible Edge Platform for 5G ORAN and AI Inference
Intel® 5th Generation Xeon® Scalable Processors
NVIDIA L40S GPU supported
NGC-Ready and NVQual-Certified
Rich PCIe slots design to support flexible network adapters and accelerators
Designed for extreme environments, NEBS Level 3 compliant
Agenda
6+ sessions that will dive deep into trending topics – from generative AI to advanced cooling and hardware management.
> See the full schedule at OCP website
Topic
Tracks
Speakers
Watch on-demand
Tuesday, Oct 17

2:00pm – 2:25pm

Shaping the AI Landscape: Pioneering AI, Cooling Innovations and Influence

The Cambrian Age's rapid diversification parallels AI's profound impact on society. Wiwynn demonstrates commitment to shaping the AI landscape through diverse products and collaborations, showcasing relentless innovation and a cooling revolution for the AI-driven future.

Executive Track

Raghavan Venugapol

Executive Director

Wiwynn

Lentis Pai

Director

Wiwynn

Video

4:25pm – 4:40pm

Unleashing the Power of AI and Advanced Cooling: Transforming Modularity, Diversity, and Efficiency

Wiwynn leads in the AI-driven transformation, offering modular AI products for diverse applications. Our innovative cooling technology supports sustainability, reducing energy consumption and enhancing AI system efficiency. Explore our AI product diversity and the crucial role of Advanced Cooling for a sustainable future with us.

Expo Hall Talk

Thomas Kao

Director

Wiwynn

Video
Wednesday, Oct 18

1:50pm – 2:10pm

OCP ORv3 Blind Mate Liquid Cooling Component Update

This presentation offers comprehensive updates on liquid cooling components in development, including builds and testing. It will also cover design and test advancements for blind mate valves, manifolds, and IT gear, addressing challenges through design enhancements.

Cooling Environments

Nick Goenner

Mechanical Engineer

Specialty Manufacturing

Chris SC Lee

Assistant Technical Manager

Wiwynn

Video

4:10pm – 4:30pm

Pioneering OSF Enhancement for Debugging and Usability with Intel Xeon Platform

In this presentation, we discuss our contributions to upstream coreboot for Intel Sapphire Rapids and improvements in Cloud Firmware, tested on Intel Birch Stream. While initially designed for Intel FSP, our enhancements have broader applicability to X86 and ARM platforms, benefiting the community.

Open System Firmware (OSF)

Johnny Lin

Technical Manager

Wiwynn

Video

4:30pm – 5:00pm

DC-SCM Based Advanced Cooling Manager: Rapid leakage protection and cooling management in rack and tank level liquid cooling systems

With increasing chip performance, cooling methods have evolved to encompass liquid and immersion cooling, from L10 to rack-level solutions. This investigation focuses on enhancing efficiency, failure management, and reliability in rack-level cooling, utilizing DC-SCM and BMC.

Hardware Management with DC-SCM

Tom Tu

Technical Supervisor

Wiwynn

Ash Liao

Architect

Wiwynn

Video
Thursday, Oct 19

12:30pm – 12:50pm

Two phase immersion cooling study for OCP Accelerator Module (OAM)

This presentation discusses 2-phase immersion cooling's potential to boost data center IT performance. We evaluate its feasibility for cooling OCP Accelerator Modules at 1000W each, covering design, testing, and environmentally friendly liquid supply.

Cooling Environments

Jiu Xu

Thermal Engineer

Meta

Jaylen Cheng

Assistant Technical Manager

Wiwynn

Video
Locations
Event Venue:
Booth B3,
San Jose Convention Center
150 W San Carlos Street
San Jose, CA 95113
* The information provided on this website is intended for general informational purposes only. While we make every effort to ensure the accuracy and timeliness of the information presented, we reserve the right to make changes to the content, materials, and information on this website at any time and without prior notice.
---