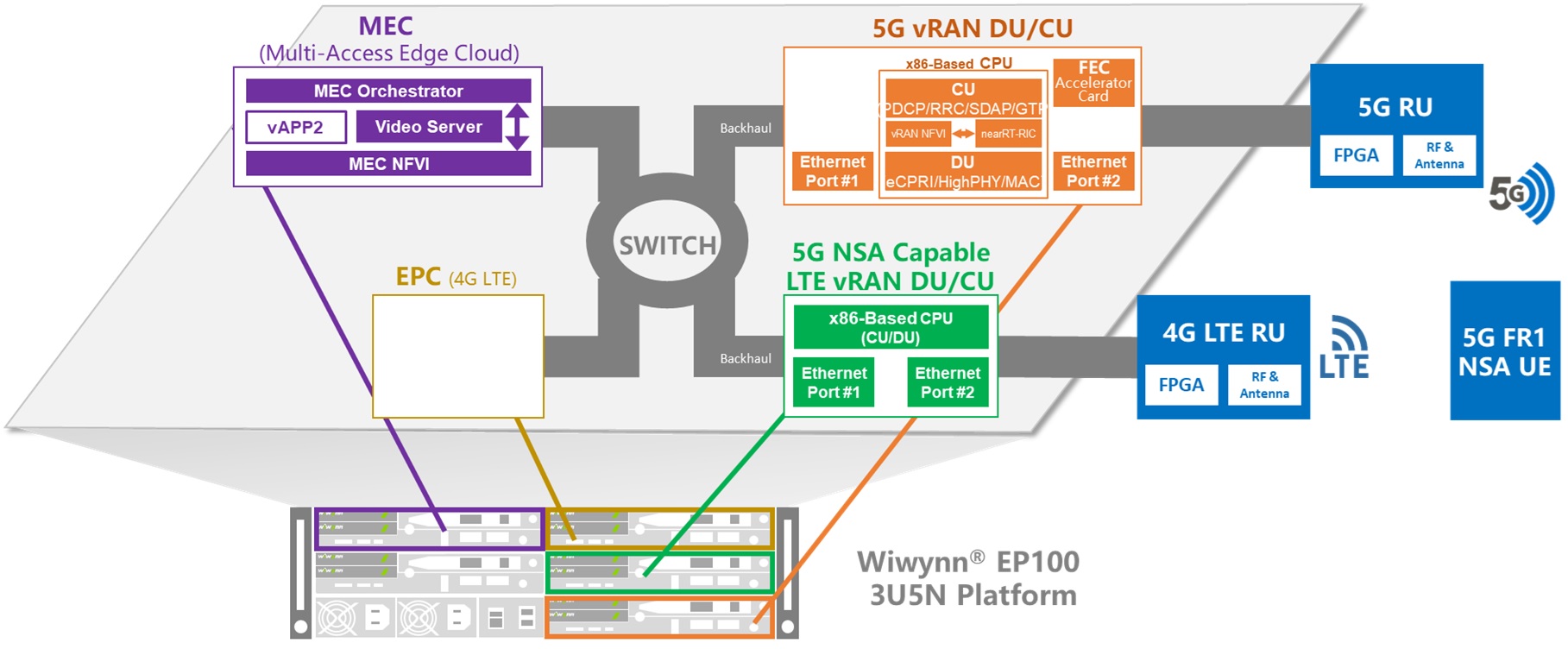 3U Short-Depth Form Factor for Diverse Edge Locations
The 3U short-depth chassis allows multiple service providers to create more services at edge sites. The chassis is also perfect for Telcos to deploy their edge applications on existing infrastructure. They can scale computing power by adding more EP100 systems from base stations to central offices. Front-access design of EP100 offers easily serviceable management and network cables, power cords, RMC and server sleds. Clear rear design can easily fit into racks in some special locations with limited room space.
Pooled Power and Chassis Controller for Power Efficiency and Management
With pooled power supplies and chassis level management, EP100 delivers high power efficiency and easy management for edge sites. EP100 comes with one 1Gb/s (RJ45) for management to RMC to all sleds and two 10G SFP+ ports, front panel for uplinks or chaining multi-chassis.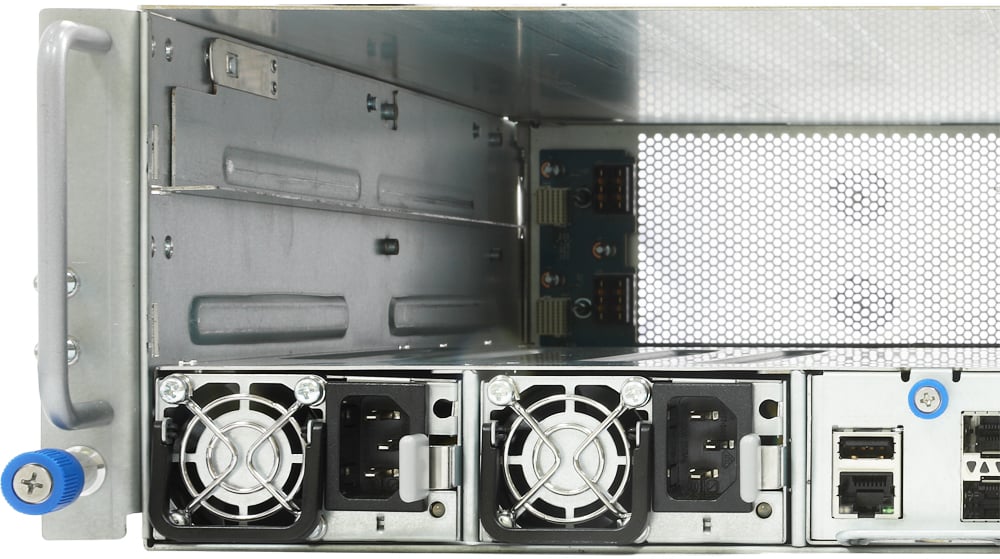 Intel® SST-BF Enabled for Ultra Reliable & Low Latency Communications
Wiwynn EP100 adopts the OCP OpenEDGE specification and the latest Intel® Speed Select Technology – Base Frequency (Intel® SST-BF) feature for diverse applications requiring low latency and huge data-processing capabilities at edge sites for the upcoming 5G era.
Tech Spec
Node Specification
Form Factor
1U, Half Width
Processor
2nd Generation Intel® Xeon® Scalable Processors with up to 26 cores
Processor Sockets
1 (1 Socket/Node)
Memory
8 DIMM slots; RDIMM/LRDIMM; Up to 512GB; DDR4 up to 2933 MT/s
Chipset
Intel® C621 series
Security
TPM v2.0 (option)
Storage
‧ Two M.2 NVMe SSD module slots
‧ Two 2.5" U.2 Hot-plug drives
Expansion Slots
‧ One FHHL slot (PCIe 3.0 x16) -> Support Accelerators for DU/CU
‧ One OCP NIC 3.0 card (PCIe 3.0 x16) -> Quad-port 10GbE SFP+ & Dual-port 25GbE SFP28
Remote Management
‧ IPMI v2.0 Compliant; RedFish
Dimensions
41 (H) x 215 (W) x 421.8 (D) mm
Weight
3.5kg
Fan
4
OS Support
RedHat Enterprise Linux 8.x, CentOS 7.9, Ubuntu 20.04
Chassis Specification
Form Factor
3U
Dimensions
130.6 (H) x 442.4 (W) x 432 (D) mm
PSU
2x 2000W, AC/DC/DC(±48V), 1+1 Redundant Hot-swappable PSU
Weight
25Kg
Management LAN
‧ One GbE RMC port
‧ Two 10G SFP+ ports
Environment
‧ Operating conditions: NEBS Level 3 compliant (GR-63, GR-1089)
‧ Operating temperature range: -5°C …+55°C according to GR-63-CORE & ETSI EN300 019, NEBS Level 3 compliant, Operating humidity: 5% to 95%
‧ EMC: FCC CFR47 15 (class A), CISPR 22/32 (class A) CISPR 24, NEBS Level 3 compliant
‧ Safety: SR-3580, IEC 62368-1:2014, NEBS Level 3 compliant (electrical safety, grounding and bonding)
‧ Seismic tolerance: NEBS Level 3 compliant
‧ Acoustic noise: NEBS Level 3 compliant
‧ Fire resistance: NEBS Level 3 compliant