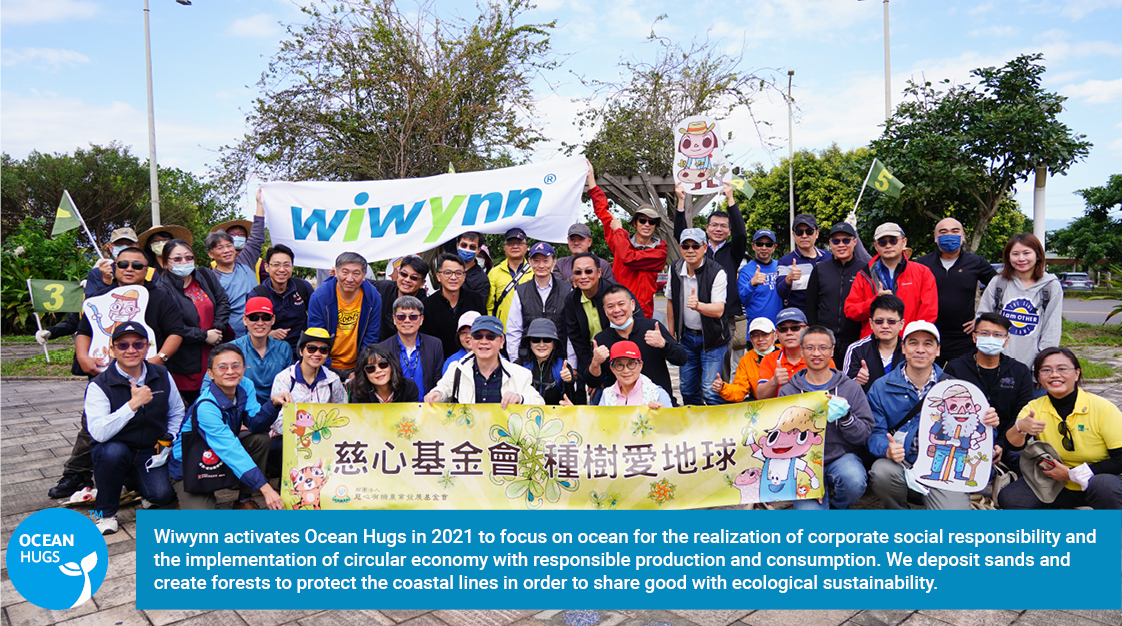 Global warming, sea level rising, and ocean acidification caused by the climate change plus the threat of marine litters force the living beings in the ocean facing survival crisis. Taiwan is surrounded by sea, and we, who live in the island country, should share good with ocean. Wiwynn Corporation carries the concept of sharing good with ocean and activated Ocean Hugs in 2021 to gradually promote circular economy and sharing good with the ecology. We also continue rooting the awareness among all the employees in Wiwynn to make it our corporate culture in order to achieve shared good between economic development and environmental sustainability.
Circular Economy
Wiwynn implements circular economy through responsible production. Currently, there are 40% of our products introduced recyclable plastic materials. 89% of them replaced the plastic materials with recyclable plastics. In the future, we will continue obtaining technology and mutual agreement with upstream and downstream suppliers to enhance the technology of plastics reduction and reutilization on products and their packaging materials. We cherish natural resources with the concept of "recycling and reutilization to make good used of materials" to fulfil our corporate social responsibility.
Sharing Good with the Ecology
On November 11th, 2021, Wiwynn CEO led employees working with TOAF Tree Planting Foundation to start our first stop of forest creation along coastal line at Wujie Township in Yilan County. 33 managers in Wiwynn planted 800 saplings in person to establish natural and firm connecting net through the intertwined tree roots in order to slow down the disappearance of territory caused by the rise of sea level because of climate change, protect the coastal line in Taiwan, and guard the diversity of onshore and offshore living beings. When the trees create shade, it will be able to block out the impact of northeast monsoon, sea salt, and blowing sand to the inner land as well as protect life quality of the residents in the community. Planting trees to create forests is a mature technology for carbon negative while creating forests along the coast will generate positive environmental effectiveness. In the future, it is the direction of Ocean Hugs that is continued promoting by Wiwynn.
Rooted Corporate Culture
Wiwynn understands the awareness towards corporate responsibility and eco-friendly environment shall be rooted like saplings to become corporate culture in our Company. In March 2022, we invited Ms. Cheng Li-Yi from TOAF Tree Planting Foundation to deliver a speech at Wiwynn, making sure more colleagues realize "creating forests along the coast is not a issue of whether it is difficult but whether it is something we shall do", Founder of TOAF. In the future, we will promote more relevant seminars and activities. From awareness to action, we want to extend the virtuous circle from Wiwynn to our partners, exercise the corporate influence, and accumulate the changes to a powerful strength.